The magical country of Bhutan, a Buddhist kingdom nestled in the Himalayas between India and China, boasts dramatic landscapes, unique culture and unforgettably challenging treks! Led by adventurer and mountaineer Katie Sarah, Trek For Sight Bhutan is a once in a lifetime opportunity, which I challenged myself to complete in April 2018. Katie is the first South Australian Woman to climb Mount Everest, and the only woman in the world to scale the seven tallest summits and volcanoes on every continent!
Commercial life
As for me, my life revolves around public boards. I'm a Non-Executive Director of Strike Energy, an ASX Oil & Gas company, and a Shareholder and Director of CD Power, based in Adelaide and Roma, and IPipe, based in Brisbane and Chinchilla. Both companies serve the Oil & Gas, and mining industries. In addition to this I am CEO of Rowe Advisory, a business whose clients including Senex Energy, Armour Energy and Incitec Pivot. We specialize in business development, contracts & procurement, supply chain, executive recruitment and mergers & acquisitions. Over the past four years, the business has grown and conducts work in Adelaide, Perth and Brisbane.

Unchartered territory
I joined the Board of Sight For All in 2017. This not-for-profit organisation raises vital funds to deliver eye health care projects free of charge to partner countries and communities. To demonstrate my commitment to this worthwhile cause I signed-up for Trek For Sight, one of the organisations fundraising events, to raise money for equipment for the National Referral Hospital in Thimphu, Bhutan. Being involved in a not-for-profit has pushed me out of my commercial world comfort zone, testing me to accept effort with no financial return. Years ago, Gross National Happiness was identified by the people of Bhutan as more important than Gross National Product! Never have I worked with Doctors nor taken the time to understand issues of a charitable nature, so this was unchartered territory for me.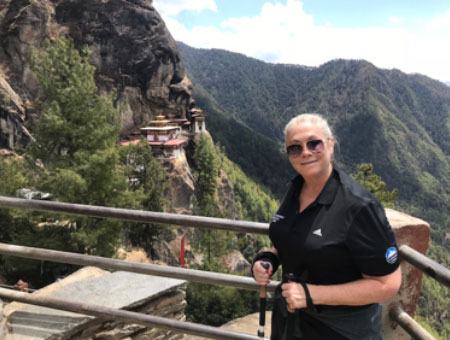 The challenge
I am a virgin trekker and there is no doubt I have just completed one of the most challenging events of my life. In the words of Sir Martin Conway, "Each fresh peak ascended teaches something", and nothing could be truer. To prepare, I was getting up at 6am to walk up hills in Adelaide or Brisbane, because walking on the flat just doesn't cut it for training purposes – listen to me! My business interests mean weekly interstate trips, early starts and late finishes, so it was always going to be a challenge to fit training into the schedule. But I was determined to deliver on my commitment to Sight For All.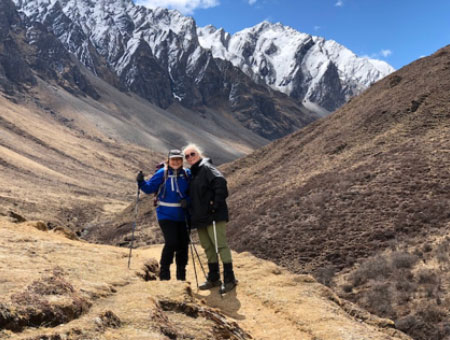 After a long trip to arrive in Paro, Bhutan you realise it is worth the wait. It's the beautiful people of Bhutan; your fellow trekkers; the food; the stunningly beautiful scenery; the horses and mules; the yaks; the stray dogs that sleep all day and bark all night; the rocks, the pain; the cold; the snow; the cliffs; the track conditions; the stumbling; the safety risks; the equipment; the breath-taking views everywhere you look and the simply amazing strength of the guides! And, oh the joy when there is a toilet with a seat or electricity, it's heaven! My longest walk was 11.5 hours, shortest was 6 hours, twice I finished in the darkness, amazed and emotional that I had made it.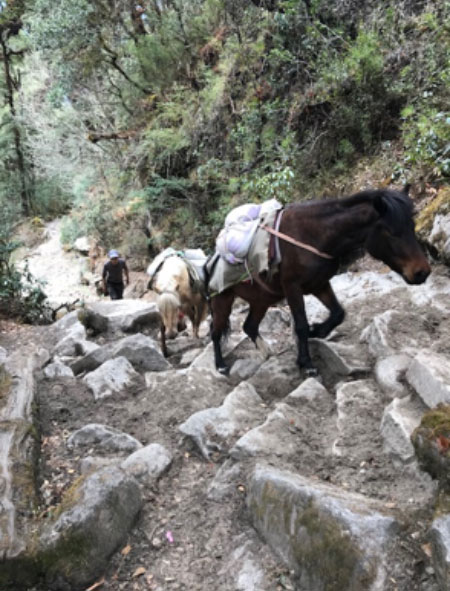 Reflections
The solitude of walking alone made me think hard about so many things and focus on what is important in life….and it's not the hairdresser (although I won't give it up), and it's not the mobile phone. It's people – those that may have let you down, those who may be strangers but demonstrate amazing acts of kindness. It's the things missing from your life; the achievements already met and the future aspirations. It's eliminating the noise, and focussing your mind on what is important to you, in complete isolation from others' expectations. It's those people in your life that will be there for you, through the good and the bad, because they love you. This is key for me. Life can be tough sometimes, so if for nothing else, other than for the opportunity for self-reflection, trekking is good for the mind, body and soul, and I highly recommend it.
Lessons learnt
This experience was brilliant, yet tough. A challenge way beyond expectation which has shown me so many sides of human nature. To the two guides, Rindgin 32 and Namgay 22, who encouraged me; held my hand; walked me through the snow; down the cliffs in darkness with a torch on my head – it's you I will never forget! Faced with my overtly expressive nature, and my extreme fear and pain on the most challenging day, they both told me at various times what a strong woman I was, and now I truly believe it.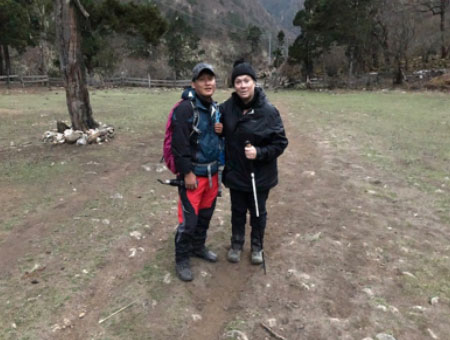 A couple of lessons learnt: Firstly, the time it will take is the time it will take – 22 minutes in Bhutan can be 1.5 hours. "Close" can in fact mean a great distance and "around the corner" does not necessarily mean the next corner…
Secondly, when I turn my mind and body towards a challenge, I can achieve anything. The only thing stopping me, is me. I know this because what I have just demonstrated to myself is that, despite not being the fittest in the group, my heart, the support system I have at home and my strength of character will always get me through.
On our final day, the Sight For All Chairman, Dr James Muecke, presented the equipment that our fund raising provided to the President of the National Referral Hospital. This made all the above the most worthwhile and valuable experience, even if one of the days was the most challenging in my life.

Thank yous
Thank you to the Sight For All team, Judy Hatswell, fellow trekkers James and Mena Muecke, Melissa Slattery, Gary and Donna Davis, Lou Lou and John Stokes, and Katie Sarah for the experience, friendship and support.
To those that generously donated, I have seen the equipment and been in the hospital where your donations are already making a positive impact to the lives of the Bhutanese people.
And to the beautiful people of Bhutan thank you for showing me your country, your kindness, raising my cultural awareness and another understanding of the phallic symbol!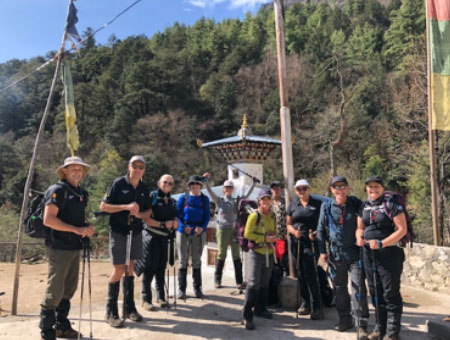 In the words of Winston Churchill, "Never, ever, ever, give up".